S/N Korean Humanities is a peer-reviewed journal published biannually in March and September by the Institute of Humanities for Unification (IHU) at Konkuk University, Seoul, Korea. Launched in March 2015, S/N Korean Humanities offers a unique forum of debate for the role of the humanities in promoting communication, healing, and integration of Koreans everywhere and is the first to highlight integrated Korean studies by bridging Hangukhak and Chosŏnhak.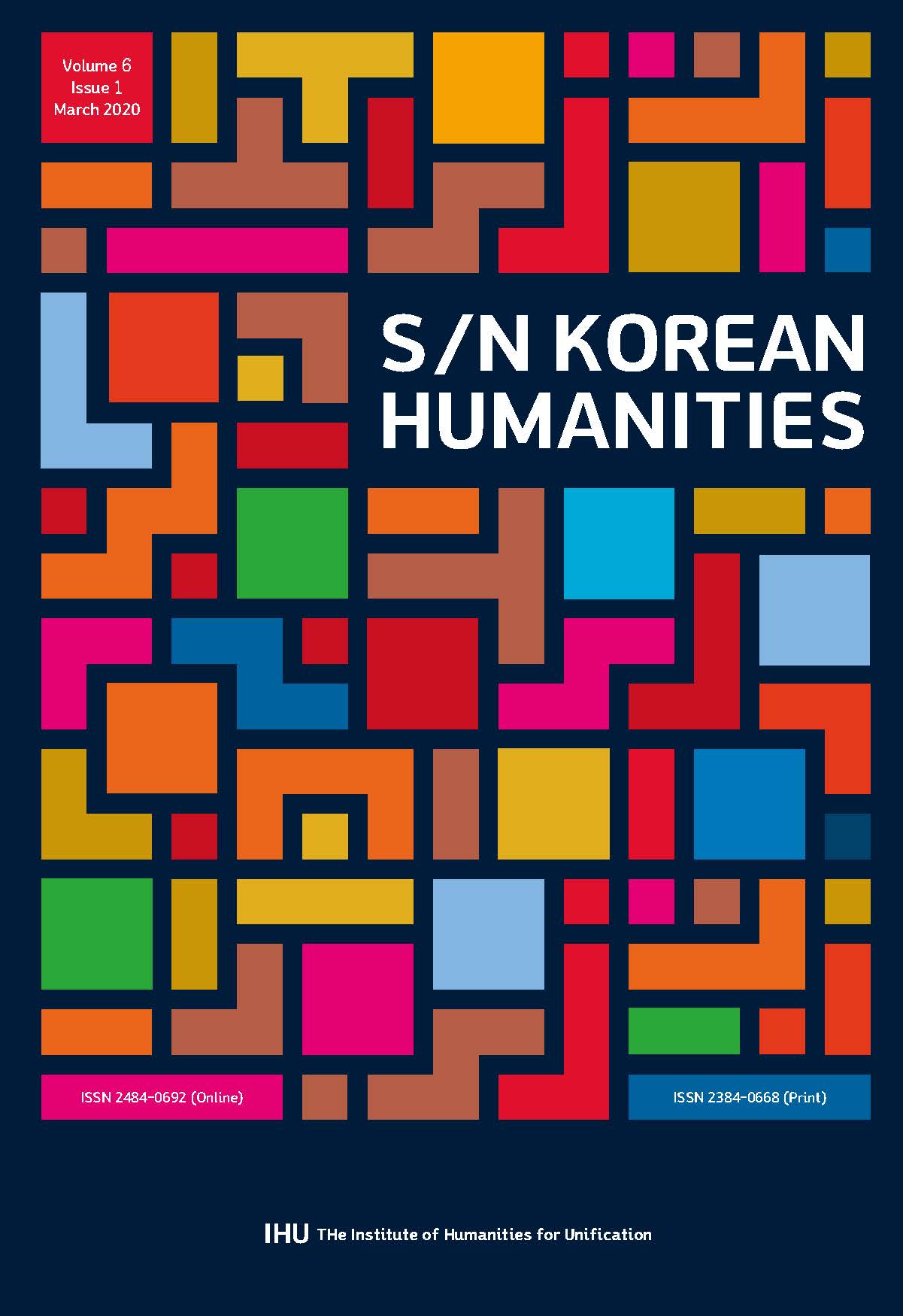 Journal Abbreviation: S/N Korean Humanities
Frequency: Biannual
Doi Prefix: 10.17783/IHU
ISSN: 2384-0668 (Print)
ISSN: 2384-0692 (Online)
Inaugural Issue: March 2015
Publisher: Institute of Humanities for Unification (IHU)
Current Issue
Editor's Introduction
Kim Sung-Min

S/N Korean Humanities :: Vol.8 No.1 pp.9-14

---
Feature Articles
Eun Ah Cho

S/N Korean Humanities :: Vol.8 No.1 pp.17-40

More than 70 percent of North Korean refugees who cross the Sino-North Korean border are women, and approximately 60 percent of them send money to family members that they left behind in North Korea. How does the North Korean refugees' monetary remittances change the relationship with their family members? This article answers this question particularly focusing on Jero Yun's trilogy about North Korean women: Mrs. B, A North Korean Woman (2016), Beautiful Days (2018), and Fighter (2021). By reading North Korean refugee issues as a part of dispersed families (isan'gajok) in the history of a divided Korea, the director delivers a strong message of motherhood through the North Korean women in his films. The women in the films, however, reveal how desperately they want to escape from the conventional image of "Korean mothers" who are supposed to sacrifice and devote themselves to their children. With monetary and emotional remittance to their family members, the North Korean women gradually turn over their hierarchy in the patriarchal family system and transform themselves into tearless mothers who do not apologize for their absence. By establishing their own moral boundary, these women not only cross the conception of clan-based family but bid farewell to the nation (North Korea), which is a collective of individual families.
---
Kim Chinmi

S/N Korean Humanities :: Vol.8 No.1 pp.41-58

This article historically identifies the significant women's policies implemented by Democratic People's Republic of Korea (DPRK) from the inception of its regime to the early 2000s, and introduces popular songs that reflect the characteristics of the policies of each era. After the reorganization of the equal rights laws and system, DPRK's policies for women developed into a basic axis of socializing women's household labor and parenting, and socio-politicizing such aspects in the last phase. In the nascent days of the state, numerous women were found to be active as the agents of socialist reform, and in the 1960s and the 1970s, female laborers could transform themselves into reformers while playing roles equal to those of men under maternity protection policies. However, although beginning from the 1990s, when the economic crisis erupted, women have played the role as the actual heads of households and saw changes in the division of gender roles, popular music has embodied as virtues the sacrifices of women who have internalized the patriarchal order. Historically, DPRK has valued the nuclear family, emphasizing the "Socialist Great Family" (sahoejuŭi taegajŏng) along with the Juche ideology to maintain the DPRK-style socialism. In consequence, the roles of the state and of women as well as family relationships has become defined more than ever according to gender norms.
---
Amanda Wright

S/N Korean Humanities :: Vol.8 No.1 pp.59-94

This article accepts the premises that reality is socially constructed, in large part by traditional media, which has a societal obligation to influence that reality in a responsible manner. Background on the social construction of reality, media representation, and information relevant to the Korean context is provided, followed by the views of North Korean defectors (hereafter NKDs) on said representation, and finally a brief discussion and recommendations. Each issue impacting the majority female NKD population is examined through a gendered lens. Conclusions include the need for greater diversity in the representation of defectors, a reduction of sexualization and victimization as previous authors have discussed, and minimizing the use of the "strong NKD woman" narrative.
---
Book Review
Jean Do

S/N Korean Humanities :: Vol.8 No.1 pp.97-106

---
Contributing Essay
Kim Yun-ok

S/N Korean Humanities :: Vol.8 No.1 pp.109-130

---