S/N Korean Humanities is a peer-reviewed journal published biannually in March and September by the Institute of Humanities for Unification (IHU) at Konkuk University, Seoul, Korea. Launched in March 2015, S/N Korean Humanities offers a unique forum of debate for the role of the humanities in promoting communication, healing, and integration of Koreans everywhere and is the first to highlight integrated Korean studies by bridging Hangukhak and Chosŏnhak.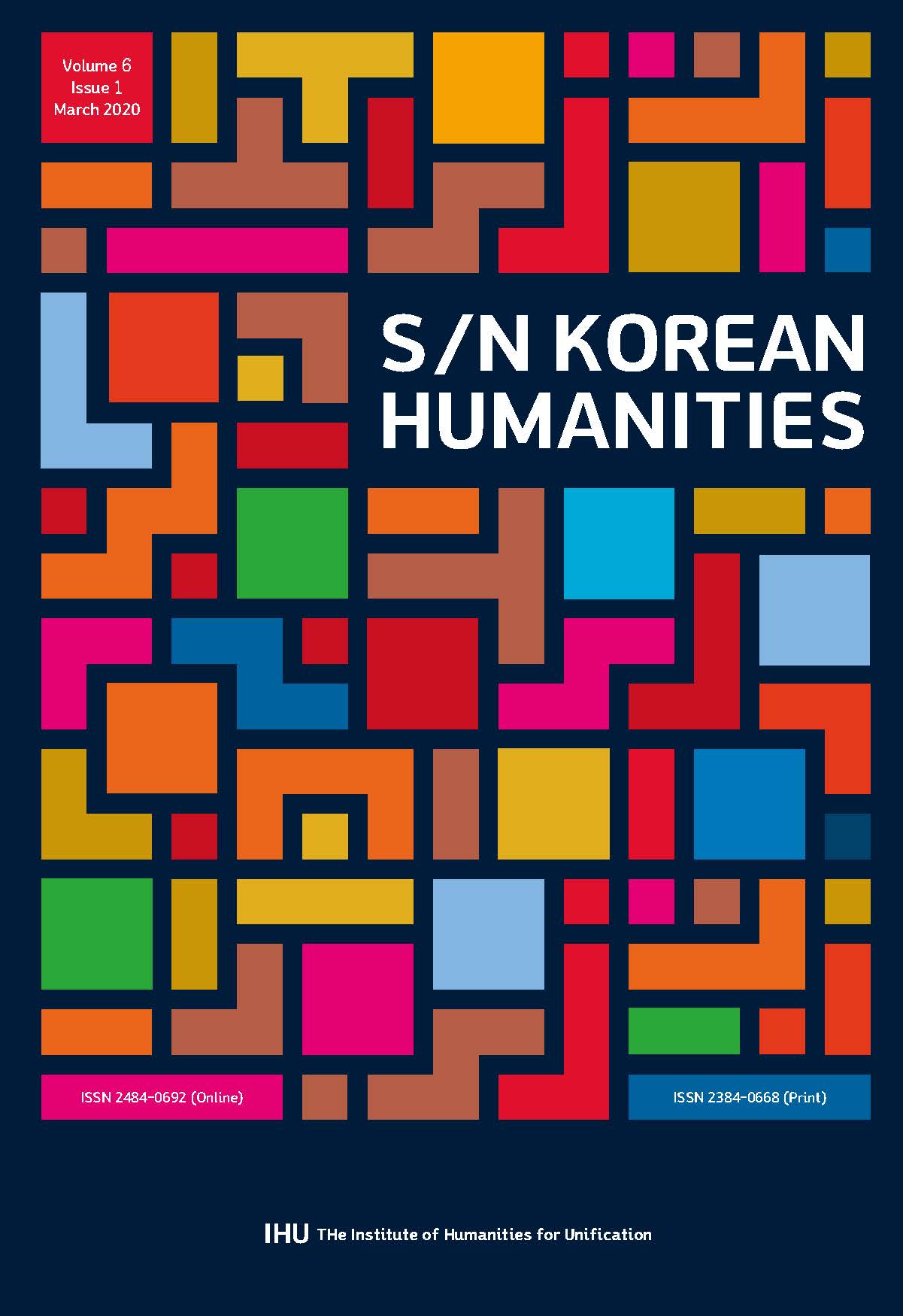 Journal Abbreviation: S/N Korean Humanities
Frequency: Biannual
Doi Prefix: 10.17783/IHU
ISSN: 2384-0668 (Print)
ISSN: 2384-0692 (Online)
Inaugural Issue: March 2015
Publisher: Institute of Humanities for Unification (IHU)
Current Issue
Editor's Introduction
Kim Sung-Min

S/N Korean Humanities :: Vol.6 No.1 pp.7-14

---
Feature Articles
Mikyoung Kim

S/N Korean Humanities :: Vol.6 No.1 pp.17-46

This article compares two sites of state violence in Asia, Japan's Hiroshima and Korea's Kwangju, in order to analyze commemoration of state-initiated civilian sufferings. Despite common symptoms of traumatic experiences at individual level, commemorative practices exhibit striking differences at societal level. Hiroshima is still in mourning over its own victimhood, while remaining relatively ambivalent about Japan's role as the perpetrator of other countries. The controversies surrounding the renovation project of Hiroshima Peace Memorial Museum from 1985 until 1994 show the city's willingness to promote its moral authority as the anti-nuclear pacifist leader, whereas the municipal leadership conceded to make political compromises. Kwangju, the place of civilian massacre in May 1980, on the other hand, has undergone dramatic transformation from the site of antigovernment protests to the mecca of Korea's democratization movement. The trajectory of the May 18 Democracy Cemetery shows Kwangju's ideational transformation from a victim to the hero of Korean democracy. A cross-cultural comparison of the two commemorative sites of state violence shows the way in which Japanese cultural modes of ambivalence and situational logic permit ambivalence, whereas Korean cultural modes of self-victimization and resistance negate a post-hoc aggrandizement of the tragic past.
---
Hannes B. Mosler

S/N Korean Humanities :: Vol.6 No.1 pp.47-92

This article analyzes commemorative speeches on the May 18 Kwangju Democracy Movement (1980) by South Korean presidents to investigate how the historical events have been interpreted across alternating political camps in power. Among various other issues regarding the interpretation and evaluation of the country's political history the May 18 Kwangju Democracy Movement is still not fully accounted for its causes and consequences, and remains contested by conservative forces 40 years after the events occurred. While there is a rich body of research on the May 18 Kwangju Democracy Movement including the topic of memory politics, presidential commemorative speeches so far have been neglected despite the fact that they represent an important mode of political communication in modern societies regarding the production of authoritative remembrance narratives. This article contributes to filling this void by examining all past May 18 Memorial Day addresses by presidents between 1993 and 2019, that is a total of 11 speeches. The study finds a clear tendency in conservative presidents' speeches toward rhetorical tactics that aim to depoliticize still-contested issues surrounding the May 18 Kwangju Democracy Movement with the effect of potentially forestalling critical engagement with its causes and consequences, and thus frustrating reconciliation.
---
Gooyong Kim

S/N Korean Humanities :: Vol.6 No.1 pp.93-122

This article examines how feature films represent mothers who became activists after having lost a child during the Kwangju May Uprising. As a means to reconsider how the mass medium helps shape the public's understanding of various factors in the historic event and its contribution to democratization in Korea, this paper examines whether the popular entertainment genre provides the audience with a sound perspective to learn different human factors in the Uprising as well as post-Uprising social movements. Specifically, this article examines how the film portrays women's involvement in post-Uprising movement, focusing on the gendered nature of representation, or un-representations of female activists in the movies on the Uprising and other social movements. This paper calls for a more just recognition of various human components that contribute to social transformation, by overcoming the epistemological hegemony of patriarchy.
---
Articles
Chong Yongsu

S/N Korean Humanities :: Vol.6 No.1 pp.125-144

This paper examines the survivors' and bereaved families' experiences of the Kantō Massacre in September 1923 and seeks to draw a connection between said experiences and their movements after the tragedy, focusing on the fear planted in the ethnic Koreans as psychological damage caused by the massacre. This fear manifested itself in various physical behaviors such as fleeing, hiding, or pretending to be Japanese, which defined the lives of the traumatized ethnic Koreans long after the massacre. Although the facts of the massacre had been disseminated throughout the Korean community by students and workers, what was significant in the memory of the massacre was the repeated issue of rumors about and persecution of Koreans in Japan even after the Great Kantō Earthquake. The situation worsened after Japan's final defeat in the war and led to the rise of fears among the ethnic Koreans of being massacred, which led to the resurgence of ethnic Koreans fleeing as they had during and immediately following the Kantō Earthquake.
---
Kang Pokshil

S/N Korean Humanities :: Vol.6 No.1 pp.145-158

This paper examines Kŭmo sinhwa, the collection of stories by the fifteenth-century Chosŏn philosopher and writer Kim Sisŭp (1435–1493) within the history of world literature by focusing on its unique contribution as one of the earliest forms of prose fiction and wider impact on the literary tradition of other countries. Kim's Kŭmo sinhwa was a work of prose fiction that appeared at a relatively early period in history and an important work that reflects the principles and development of the literary tradition in Chosŏn. The stories in Kŭmo sinhwa, descriptive of the tendencies and aims of its people and filled with trenchant criticisms of social problems, hold their rightful place in the canon of fifteenth-century world literature. Kŭmo sinhwa is also notable in the influence that it has exercised on foreign literary traditions. Kim's stories attracted a devoted readership in Japan, and they played a pivotal role in the emergence of the Japanese story collection Otogibōko.
---
Book Review
John Cussen

S/N Korean Humanities :: Vol.6 No.1 pp.161-172

---
Interview
Interviewee: Kang Man-gil

S/N Korean Humanities :: Vol.6 No.1 pp.175-196

---